REGIONAL transit procedures have been identified as crucial for landlocked countries such as Zimbabwe in the enhancement of export growth.
This was highlighted at the 2nd African Union Technical Working Group Workshop on the harmonisation of transit procedures, which opened on the 18th of August 2010.
Head of the African Union Customs Co-operation Division and acting director of the African Union Trade and Industry department, Mr Jean Noel Francois said that the harmonisation of transit procedures in the African region was essential to economic growth.

"Within the framework of the establishment of regional Free Trade Areas and Customs Unions at regional level by the Regional Economic Communities (RECs), the building blocks of the AU, will thereafter culminate into a Continental Customs Union, an African Common Market and an African Economic Community.

"There are many customs issues that need to be addressed in customs areas that necessitate harmonisation, however, transit is probably at the top of the list in terms of importance and priority.

"This workshop is therefore important because its conclusions will pave the way for the harmonisation of transit procedures across all the RECs and later on the adoption of a single transit instrument for the Continental Customs Union," said Mr Francois.

Transit operations in the Sub-Saharan African region typically suffer from a number of Customs-related deficiencies including lack of simplified and standardised customs procedures, documents and data processing, publication of fees and charges, co-operation among national customs authorities, adequate security measures to combat fraud and smuggling, risk management technique, computerisation and electronic messaging.

These problems generally yield costly implications for customs organisations in respect of delays at border posts, opportunities for theft and corruption practices, inflated transit transport costs and the preclusion of foreign direct investment.

Delegates at the workshop are expected to carry out a comparative study of the various transit systems and procedures applicable within the Regional Economic Communities and to agree on a harmonised document for the continent.

Mr Francois, however, added that there were still a number of issues within the transit problematique that required attention.

"Future work will include other areas of transit, among others, enforcement, risk management, pre-arrival clearance, post-clearance audit, capacity-building and the issue of interconnectivity of computerised clearance systems," he said.

Officially opening the event Zimbabwe Revenue Authority acting commissioner-general Mr George Chiradza said that his organisation was actively moving towards the implementation of effective and efficient customs processes.

"Challenges affecting the continent on transit procedures need modern solutions. Modernisation efforts in the field of customs are at the heart of Zimra, and this workshop comes as an inspirational event to efforts by Zimbabwe to work with others to enhance efficiency and effectiveness in customs business.

"Many operations in the modern World are now ably supported by high mechanisation and technology, especially information and communication technologies. Africa should not lag behind as the rest of the World is moving ahead, dumping cumbersome manual processes," he said.

Meanwhile, delegates to the event are set to visit the Chirundu One Stop Border Post, where Zimbabwe and Zambia have integrated systems and enhance effective operations in customs business.

Zimbabwe is a signatory to both the Common Market for Eastern and Southern Africa and the Southern Africa Development Community, which will soon launch their respective Customs Unions.

This entails deeper regional integration for the country, which necessitates shared sovereignty with regard to a number of issues including: common external tariffs, regional tariff band, harmonised consumer price indices, and generally the regularisation of legislative issues surrounding any one Customs Union.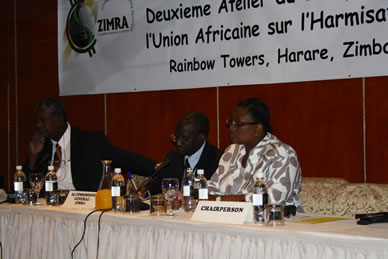 Business Herald , 18 August 2010