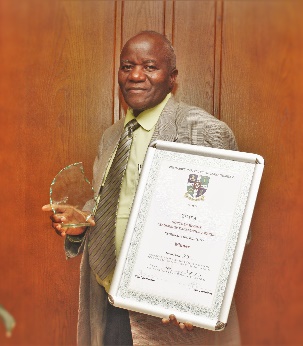 The Acting Commissioner General – Mr Happias Kuzvinzwa – was awarded the Zimbabwe Institute of Management Northern Region Leadership Excellence Award in Harare on 30 June 2017.
The award was in recognition of Mr Kuzvinzwa's "contribution and dedication to developing and promoting best practices in management and leadership".
The Zimbabwe Revenue Authority has implemented a battery of measures to enhance operational efficiency and effectiveness. Revenue collections for 2017 have improved drastically, with the Authority surpassing revenue targets for both the first quarter and the second quarter of 2017.
On 15 May 2017, the Minister of Finance and Economic Development, Honourable Patrick Chinamasa commissioned ZIMRA's Electronic Cargo Tracking System to curb transit fraud.
The Authority is also actively involved in charity work through assisting several underprivileged members of society. The Zimbabwe Institute of Management is a non-profit making organisation with over 50 years of offering management and leadership development. Its main objective is to promote and develop best practices in management and leadership.