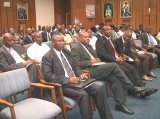 "It is high time we heeded the call from our tertiary institutions and played our part in the lives of university students, most of whom are in problems due to difficult and challenging socio-economic backgrounds."
This was said by the Zimbabwe Revenue Authority (ZIMRA) Commissioner General, Mr Gershem T Pasi, on Thursday February 18, 2010 at the launch of the University of Zimbabwe (UZ) Students Support Network. Mr Pasi handed over ZIMRA's donation towards tuition fees for 18 needy students.
The donation was part of the money raised from ZIMRA's Charity Dinner held last year in November under the theme, "The purpose of giving is giving for a worthy cause." The students are studying for various degree programmes.
The Commissioner General said ZIMRA has mainly been recruiting university graduates of late and found it fit to help in the education of such desired personnel. He urged universities to focus not only on academic growth but on total growth so that they mould graduates who will be good members of the society.
The University of Zimbabwe Dean of Students, Mr Munyaradzi Madambi, hailed ZIMRA for helping the needy students at the institution. In the same vein, the UZ Vice Chancellor - Professor Levi Nyagura - praised ZIMRA for helping the Government in furthering the dreams of tertiary students and called upon the corporate world to partner tertiary institutions in capacity building initiatives.
ZIMRA's social responsibility programmes, held under the auspices of the ZIMRA Chairman's Fund, have so far benefitted needy individuals, sporting associations, hospitals, schools, municipalities and charitable homes throughout the country. The ZIMRA Chairman's Charity Fund was started in 2004 from fines that are levied internally on ZIMRA management and staff who do not follow proper meeting etiquette.