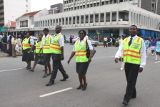 In its conceited efforts to improve the administration and collection of taxes, the Malawi Revenue Authority (MRA) has started a comprehensive research to determine the revenue collection potential of taxes under their Customs and Excise Division which includes Customs Duty, Excise Duty and Import Value Added Tax.
In relation to the above issue, the Malawi Revenue Authority sent their Revenue officers, Mr Stan Kaunda and Mr Cornelius Kakwesa to visit the Zimbabwe Revenue Authority (ZIMRA) and analyse the transit data of goods destined for Malawi from Zimbabwe or passing through Zimbabwe. In an interview with the Legal and Corporate Services team, the two officers said that they were mainly focusing on the description, volume and declared value of the goods. They noted that they had been welcomed to ZIMRA and had been adequately assisted with what they were looking for.
The officials from Malawi were very grateful to ZIMRA staff for the hospitality and knowledge of their work. They also extended their gratitude to the ZIMRA Commissioner General, Mr Gershem T Pasi, who allowed them to visit and noted that this will go a long way in creating a bond between the two organisations.