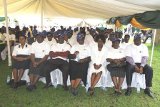 As part of its social responsibility programme, ZIMRA is actively involved in charity work to uplift the lives of the less fortunate in society. Fundraising activities are mainly done through the annual Charity Ball which has so far been held under various themes notably "lend a hand to make a difference", "an act of kindness can make a world of difference" and "the purpose of giving is giving for a worthy cause".
The Zimra Chairman's Charity Fund is also another way of raising funds and has its origins from punitive fines that are levied internally on ZIMRA management and staff who do not follow proper meeting etiquette. This covers various offences like lateness for meetings, not putting on a ZIMRA identity card and not switching cell phones during meetings among others. The basic premise for setting up this fund is that ZIMRA is endowed with the responsibility of handling State revenues but cannot use these collected amounts to engage in corporate social responsibility programmes. It thus became imperative for ZIMRA to set up an autonomous fund flowing from the compassionate heart and from fundraising initiatives by its employees.
ZIMRA's social responsibility activities have so far benefited individuals, charitable homes, sporting associations for the physically handicapped, hospitals, municipalities, university students, students and schools alike. ZIMRA also supports fundraising activities by charitable institutions or organisations that support charity.