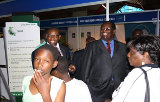 The Zimbabwe Revenue Authority (ZIMRA) has pledged to work hand in glove with business in order to create synergistic partnerships and to unlock Zimbabwe's investment potential.
Speaking at a breakfast meeting for stakeholders held on the sidelines of the Zimbabwe International Trade Fair (ZITF), ZIMRA's Commissioner for Finance and Corporate Planning, Mr Robert Mangwiro, pointed out that there is need "for a paradigm shift where Tax and Customs administrators on one side and the private sector on the other work hand in glove for synergies and mutual benefits."
The breakfast meeting was held under the theme "ZIMRA and business: Unlocking our investment potential through partnerships" and was attended by captains of industry and representatives of associations and municipalities.
The President of the Zimbabwe National Chamber of Commerce (ZNCC), Mr Obert Sibanda, who was also a guest of honour at the function, acknowledged efforts being put in place by ZIMRA to improve convenience to its clients notably the opening of revenue accounts with several banks so that clients can pay their taxes and duties in the comfort of their banks. Mr Sibanda applauded ZIMRA for organising interaction platforms like the breakfast meeting which give business an opportunity to air their grievances for the ultimate goal of economic development.
Issues that were tackled during the meeting include border clearances, payment systems, penalties and interest, among other topics.