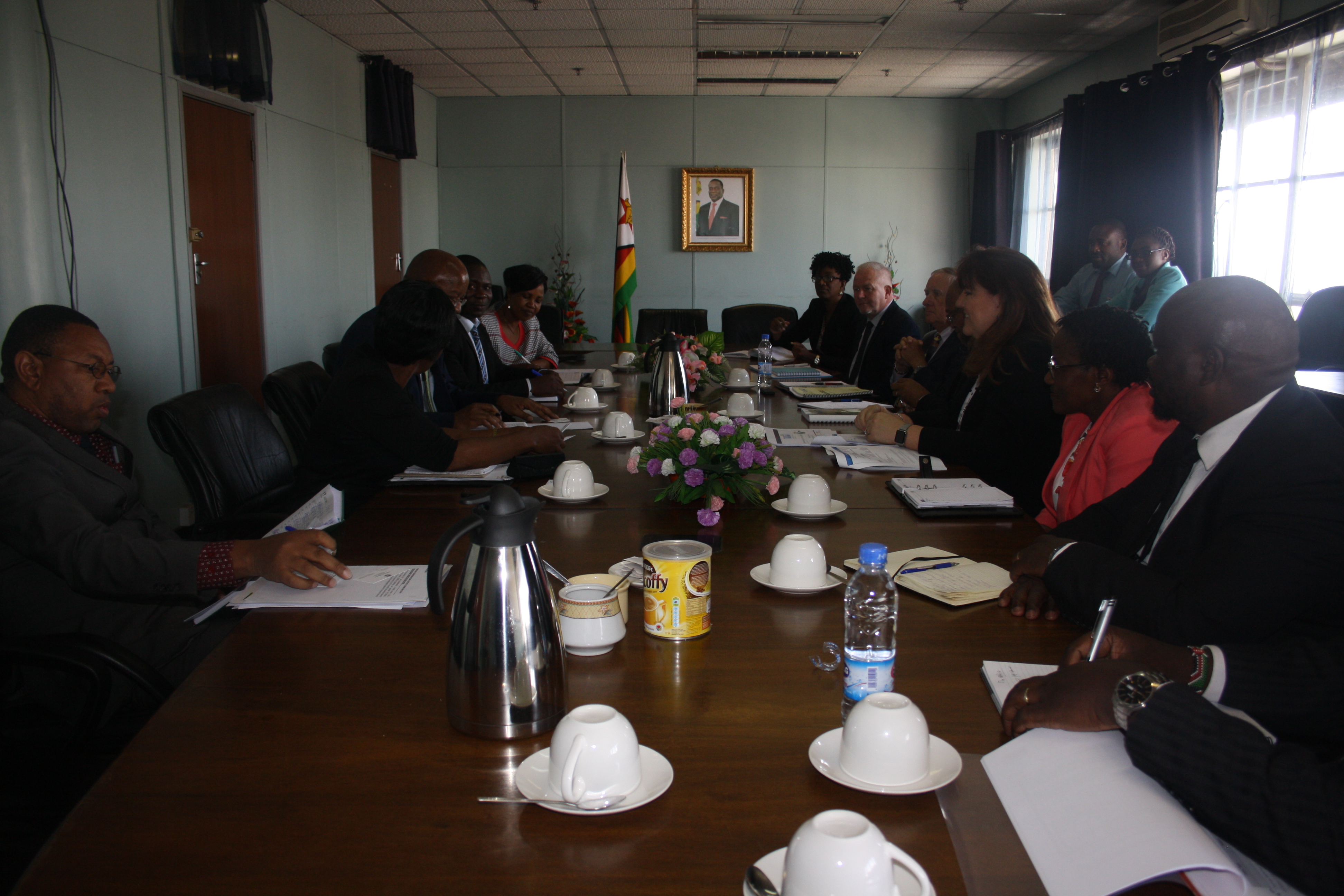 ZIMRA officials in a meeting with IMF delegation.
By Tanaka Chitongo
The Zimbabwe Revenue Authority's (ZIMRA) Commissioner General (CG) Ms Faith Mazani held a media briefing on 26 September 2018 at the conclusion of an International MonetaryFund (IMF) Tax Administration Diagnostic Assessment Tool (TADAT) exercise that lasted two weeks.
IMF head of a six member delegation Ms Rebecca Sparkman said TADAT is an IMF tool used for diagnostic assessment of strengths and weaknesses of Revenue Authorities in respect of Domestic Taxes and it is meant to inform Tax Administrations on their status in comparison with international best practice.
The IMF delegation said its mission was to help assess areas of strengths and weaknesses for possible improvements and that the assessment report was going to outline these issues.
In respect of the overall assessment, Ms Sparkman noted that the Authority was a vibrant organisation with the skills capable of handling tax issues. However, she highlighted that there were a number of system weaknesses which management needed to deal with.
The CG noted that the Ministry of Finance and Economic Development, ZIMRA and the International Cooperating Partners were the key stakeholders interested in the report with the parent Ministry taking a leading role in deciding where and with whom the the report will be shared.
Ms Mazani also noted that the assessment will among other things be used to prioritise, sequence, implement and monitor areas identified to be of weakness and these will be included in the ZIMRA strategic plan for 2019-2023.
She added that ZIMRA will seek assistance, cooperating partnership and funding in order to improve its operation. The Authority will also bring awareness to all staff on areas of weakness so as to have a shared and collective vision in working on these areas.
TADAT has been used by a number of countries around the world and the Ministry of Finance and Economic Development helped invite the mission in Zimbabwe.