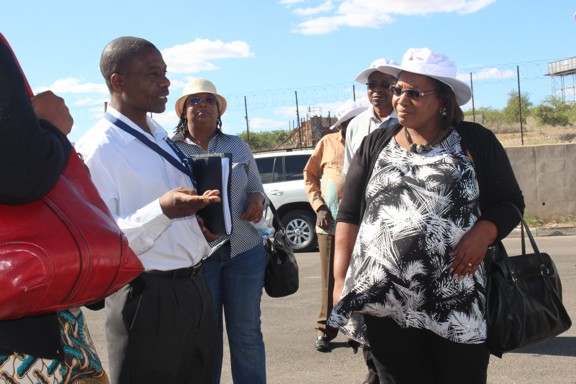 The ZIMRA Board, led by the Board Chairman – Mrs Willia Bonyongwe, undertook a three day working visit to Beitbridge Border Post with the intention of getting a firsthand experience of the situation on the ground. Joining them on the three day visit were members of the ZIMRA Executive Management.
Two crucial tours of the border post were undertaken, with the first one being done on Wednesday 4 November 2015. This tour saw the board visit the Manica Transit Shed, Container Depot, Scanner Area, the VID Office (Imports side)/Light Commercial Vehicle Clearance Yard, popularly known as the Malume Zone, and Red Star Warehouse, among other areas that were of interest to the Board members.
On hand to help with the explanations about the ZIMRA processes was Mrs Anna Mutombodzi – Commissioner for Customs and Excise and the local management of Beitbridge Border Post led by their Regional Manager Mr Christopher Zifudzi. After the tour, the Board held a meeting with Beitbridge management whereupon a number of issues relating to operational efficiency at the border post were discussed.
The second tour took place on 5 November from around 2000hrs up to the middle of the night that same day. The touring party had a relook at some points that were of interest to them including the popular Malume Zone, the clearance shed for buses and private vehicles on the imports side, among other areas. They rounded off the tour with a brief sojourn to the staff offices.
The Board members appreciated the significance of the tour and vowed to seek lasting solutions which would promote trade facilitation within the Southern African region and beyond.
Beitbridge Border Post is one of the busiest border posts in Africa. It acts as the corridor which links South African ports to the rest of the sub region. Cargo going as far as the Democratic Republic of Congo, Angola and Malawi passes through Beitbridge Border Post making it a hub for international trade within Southern Africa.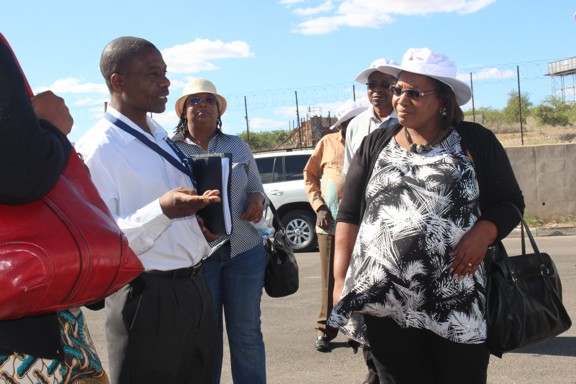 Regional Manager for Region 4, Mr Christopher Zifudzi (left), explains a point, while the Board Chair listens attentively. Looking on are members of the ZIMRA Executive Management.