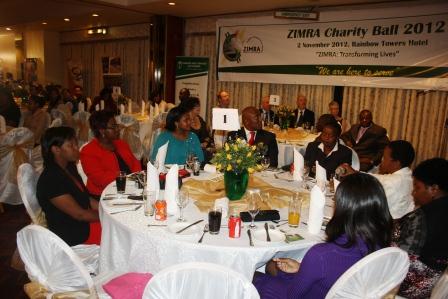 In the true spirit of sharing with the less privileged members of society, the Zimbabwe Revenue Authority (ZIMRA) hosted its Annual Charity Ball at a colourful ceremony which saw captains of industry, ZIMRA partners and other interested stakeholders coming to support this worthy cause. The Ball was held under the theme, "Give a Hand Make a Difference."
Speaking at the occasion, ZIMRA Commissioner General, Mr Gershem Pasi, appreciated the participating corporates and encouraged them to continuously give and to make a difference.
"Since 2004 when we introduced this Ball, your unwavering support has positively transformed the lives of the less privileged among us. …The benefits of giving are two pronged –  the moment you give a hand to meet someone's need, you make a difference in both your life and that of the person you are helping because God blesses you and the life of the recipient of the help," he said.
"Some of you have partnered with us for over a decade now, and we look forward to continue walking with you through this journey of changing lives for the better," added Mr Pasi.
ZIMRA helps more than 20 old people and children's homes dotted around the country each year, including paying fees for students at primary, secondary and tertiary education levels. Beneficiaries of the Charity Trust Fund include the popular whizz kid, Maud Chifamba, who enrolled at the University of Zimbabwe at the tender age of 14 in 2011.