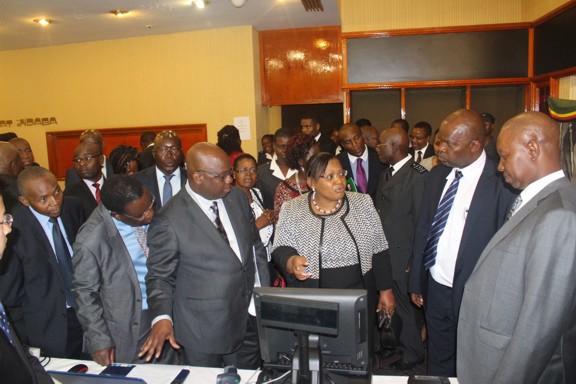 The Zimbabwe Revenue Authority (ZIMRA) recently joined other Customs Authorities the world over in commemorating the International Customs Day which was running under the theme: "Digital Customs, progressive engagements." The celebrations saw players in the Customs industry converge to celebrate the strides made so far in ensuring a smooth movement of goods and traffic over transnational boundaries.
The thrust of the 2016 theme summed up the general trend obtaining within most Customs Authority – which is that of embracing technology to enhance effective and efficient service delivery.
Speaking during the function, Commissioner General Pasi outlined ZIMRA's vision of automating its systems saying this was the only way through which the Authority could plug revenue leakages and also bring convenience to the transacting public.
"In line with the theme, we will continue to harvest fruits of automation for the convenience of our clients and the accelerated development of our country and continent at large," said Mr Pasi.
During her keynote address, the Keynote Speaker, Mrs Willia Bonyongwe who is also ZIMRA Board chairperson said digitalisation was the way to go as it would open up new opportunities for ZIMRA and the country at large.
"Although our digitalisation has started in earnest, we still have areas where we are lagging behind our counterparts. But it is our commitment as ZIMRA to speedily catch up with others in this year of digitalisation. This will definitely enable us to improve on our efficiency and effectiveness to the provision of enhanced Customs services," she said.
Displays by the Canine Unit as well as demonstrations on how the new tax management system operates added flavour to the proceedings.
ZIMRA, in accordance with international best practices, has taken concrete steps to ensure that all its processes and systems are automated. Some of the notable initiatives include the use and constant upgrading of the ASCYCUDA World and SAP systems, the rolling out of the tax management system, the soon-to-be launched Automated Revenue Machines (ARMs), and the recently launched e-services solution which enables clients to fulfill their tax obligations in the comfort of their homes and offices.