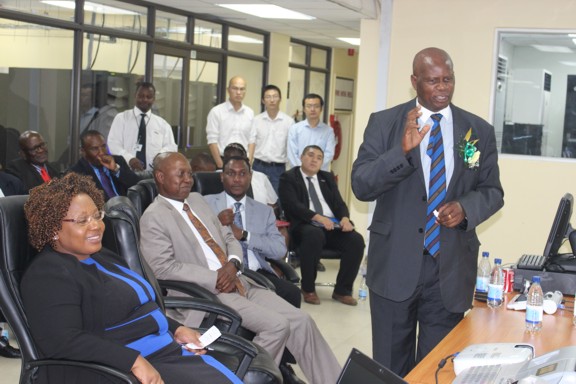 The Minister of Finance and Economic Development, Minister P.A. Chinamasa has hailed the introduction of tax management system by the Zimbabwe Revenue Authority and said that he would like to see a quicker unfolding of the system and the pace expedited. He said this during a presentation made by the Zimbabwe Revenue Authority at Kurima House on 5 February 2016 at a function that was attended by the Ministry of Finance, World Bank, Inspur and ZIMRA Board Members and management.
Speaking during the function, Minister Chinamasa applauded the introduction of the Systems and said that it will increase efficiency on revenue collections, which increases the motivation of taxpayers to comply, therefore the realization of more revenue.
"When efficiency rises, then we can lower tax rates", he said.
ZIMRA has introduced Tax Management System to connect clients to the ZIMRA system in order to enhance revenue collection and monitor real time transactions so as to avoid revenue leakages. The e-services platform has also been introduced and it allows for online registration, account management and payment of fiscal obligations and the platform has seen clients applying and receiving tax clearance certificates online. The Authority has also introduced Automated Revenue Machines (ARMs) to allow taxpayers self-service. The ARMs will allow taxpayers to pay for their taxes, submit tax returns and travellers will be able to capture and submit declarations. The ARM provides convenience as they are accessible 24 hours a day.
ZIMRA's Tax Management System comes at a time when the Government of Zimbabwe is prioritising installation and use of ICTs. In the 2016 Budget presentation made in November 2015, Minister Chinamasa alluded to improving ICTs in the country for increased productivity.  He highlighted that "…when internet penetration rises by 10 per cent in emerging economies, it correlates with an incremental Gross Domestic Product increase of one to two per cent".  He further alluded to Government's thrust of establishing Data Centres, complete Mile Connectivity, establish Community Information Centres and to extend the E-Government platform, among a host of other national ICT priorities.