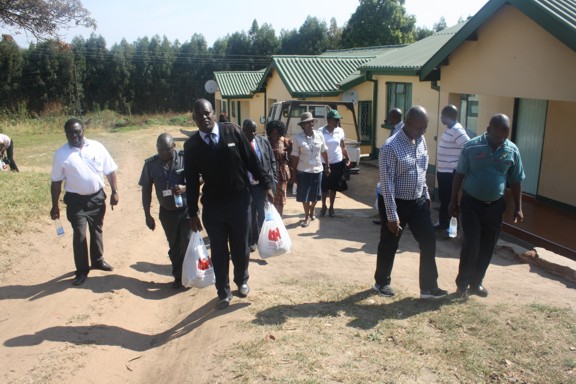 Commissioner General Pasi took time off his busy schedule to visit ZIMRA stations in Region 3, namely Forbes, Mutare Office, Chipinge and Mount Selinda.
The CG and his delegation – comprising Commissioner for Customs and Excise, Mrs Anna Mutombodzi; Commissioner for Domestic Taxes, Mr Happias Kuzvinzwa; Director for Human Resources and Administration, Mrs Sithokozile Mrewa and management for Region 3 – also took that golden opportunity to tour one of the leading car assembling companies in the country – Quest Motors Corporation based in the city of Mutare. The crucial visits took place from 24 to 26 August 2015.
The first port-of-call for the delegation was Quest Motors Corporation where the delegation was taken through the processes of assembling motor vehicles, tractors, buses and lorries. The fully automated and labour intensive car assembly system, which makes use of completely knocked down (CKD) kits, mesmerised the visiting delegation.
Next in line were Mutare Inland Office, Forbes Border Post, Chipinge and Mt Selinda Border Post, where staff members had an opportunity to interact with the Commissioner General. The CG discussed a number of issues relating to anti-corruption, staff welfare, quality management system and other operational issues.
Lucky staff members received free copies of the Inspirational Harvest, courtesy of the Commissioner General's generosity. The Inspirational Harvest is a ZIMRA publication consisting of inspirational messages circulated between 2011 and 2013 and is being sold to raise funds for charity.
Ms Vongai Chuma, an intern whose attachment was coming to an end in August, received a state-of-the-art and portable projector from the Commissioner General for use during her studies. The CG rounded off his visit with a tour of Mt Selinda, where the delegation was treated to a sumptuous lunch prepared by the multi-skilled ZIMRA staff at the border post.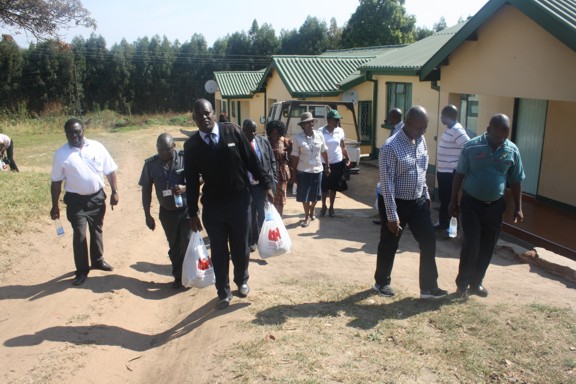 The delegation tours staff quarters at Mount Selinda Border Post led by the Commissioner General (in checked shirt).