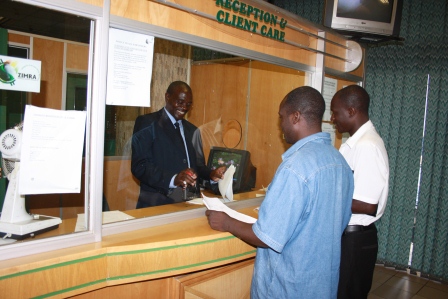 The Zimbabwe Revenue Authority (ZIMRA) surpassed the revenue collection target for the third quarter as set by the Ministry of Finance. The Authority collected US$660.7 million against a target of US$654.9 million resulting in a positive variance of 3%.
ZIMRA has been consistently surpassing revenue targets since the introduction of the multi-currency system, except for 2009 when the target was narrowly missed due to shocks associated with a new system.  The revenue collection body has put in place a number of initiatives to promote voluntary compliance and prevent revenue leaks.
Value Added Tax contributed the most revenue, bringing in 34% of total collections. Individual Tax was second after contributing 23% followed by Customs Duty which contributed 13%.
In a statement published recently, the Chairman of the ZIMRA Board, Mr Sternford Moyo, commended ZIMRA staff for their commitment and hard work.
"Given the momentum gathered so far and the level of dedication and team spirit that is prevailing within the organisation, ZIMRA is confident that this year's target will be surpassed," he said.
ZIMRA launched Zimbabwe's inaugural Taxpayer Appreciation Day last month to recognise clients who have been remitting their taxes on time and in full, with minimum intervention from the Authority.
To view the full Revenue Perfomance Report for the third quarter, please click <here>.