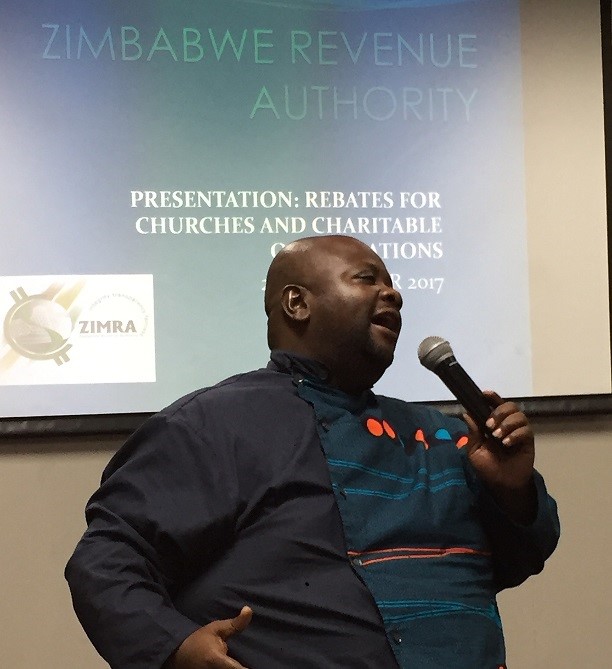 The Zimbabwe Revenue Authority held a stakeholder breakfast meeting with several church ministers on Monday 20 November 2017 in Harare.  The meeting was aimed at empowering church ministers with valuable information on import, export procedures and rebates applicable to churches, religious and charitable organisations.
Speaking at the event, ZIMRA Acting Regional Manager for Customs and Excise Region 1, Mrs Juliet Matare, acknowledged the role played by churches and charitable organisations in improving the livelihoods of the nation.
"As you appreciate, rebate of duty entails that duty is wholly waived subject to fulfilment of certain conditions. This means that religious organisations, charitable and relief organisations are empowered to carry out their mandate without extra cost in the form of Customs Duty and Value Added Tax on imported goods. Vulnerable people in the communities which these organisations exist will also benefit as their livelihoods will improve," said Mrs Matare.
She also urged the clergymen to lead by example by desisting from corrupt tendencies and to follow the procedures in clearing their goods.
"It is within this purview that I would like to highlight that despite efforts to assist this sector; ZIMRA faces immense challenges. The various rebates have conditions that the goods shall be used for the purpose for which they were imported. I, therefore, call upon you to comply with these guidelines and lead the fight against corruption as church leaders," added Mrs Matare.
The church leaders were taken through a presentation by Harare Port Station Manager, Mrs Enesia Nyaruwanga.
The breakfast meeting was part of ZIMRA's commitment to client education to improve compliance, reduce compliance costs and safeguard revenue. It was attended by several influential church leaders in Zimbabwe.