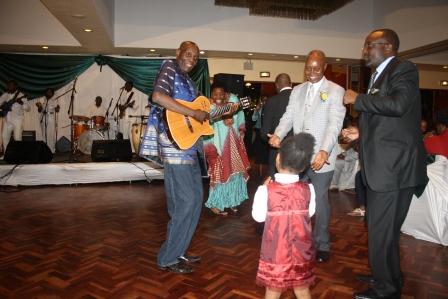 In a true spirit of giving and sharing, superstar Oliver Mtukudzi has partnered with the Zimbabwe Revenue Authority (ZIMRA) to assist the less fortunate members of society.
The award winning 'Tuku', as he is affectionately known by his legion of fans, wowed over 600 guests at the ZIMRA Charity Ball held on November 25, 2011 at a local hotel in Harare.
Held under the theme, "Going beyond the decade through caring and sharing" in recognition of ZIMRA's tenth anniversary, the event was supported by over 60 blue-chip companies and raised over US$80,000.
Mtukudzi and his band, the Black Spirits, who donated their services at the ball, belted hit after hit and left the appreciative crowd yearning for more. The most popular song was "Tozeza Baba" which triggered all guests to sing along and take to the dance floor.
Speaking at the fundraising dinner, ZIMRA Commissioner General, Mr Gershem Pasi, hailed Mtukudzi for lending a hand for the benefit of underprivileged members of society.
"When role models like Tuku actively participate in charity work, the entire nation will emulate and take the plight of the less fortunate seriously, said Mr Pasi. Click here for the CG's full Key note address
The ZIMRA Charity Ball, often dubbed "the most well-organised high profile event of the year", is an annual event aimed at raising funds for charitable institutions dotted across the country. Organisations support the event by buying tables and donating in cash and kind. This year, the ball was attended by, among other notable guests, the President of the Apostolic Faith Mission in Zimbabwe – Reverend Dr Aspher Madziyire and his wife, members of the Pasi family, Mr Sam Mataure (Tuku's band manager), Mrs Daisy Mtukudzi, Mr Kenny Mubaiwa of KM Auctions as well as chief executive officers and managing directors from several companies.