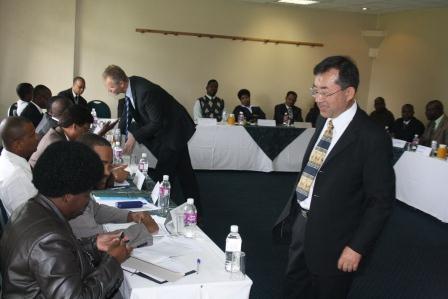 In an effort to enable World Customs Organisation (WCO), East and Southern Africa (ESA) member countries to carry out efficient and effective Customs compliance, the Zimbabwe Revenue Authority (ZIMRA) hosted a four day workshop on post clearance audits in Harare recently.
"Post-Clearance Audits though efficient at exposing criminals, emphasis should be on providing concise risk profiling for the customs administration," said ZIMRA Commissioner General Mr Gershem Pasi in his remarks during the official opening of the workshop. The workshop was meant to equip participants with the necessary skills to carry out effective post-clearance audits in their respective customs administrations.
Post-Clearance Audits allow for more efficient controls, reduced release time and reduced costs at ports of entry. This leads to swift trade facilitation and better risk management. ZIMRA engaged Mr Rik Van De Wal and Mr James Shimoya experts in PCA from the WCO to facilitate in providing the training.
The workshop is one of a number that ZIMRA has hosted this year in conjunction with the WCO. In July the Authority hosted a workshop on Authorised Economic Operators which was also a resounding success.
Please click here to view the Speech by the Commissioner General