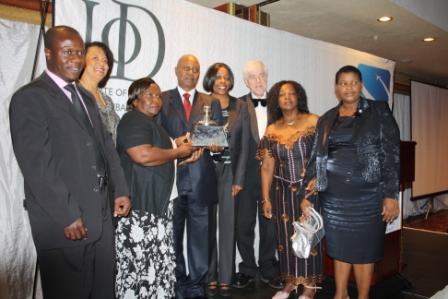 Several organisations in various sectors of the Zimbabwean economy congratulated the Commissioner General and Board Member of the Zimbabwe Revenue Authority (ZIMRA), Mr Geshem T Pasi, for being crowned the Institute of Directors Zimbabwe (IODZ) Director of the Year for 2010.
The ZIMRA Board Chairman, Mr Sternford Moyo, hailed Mr Pasi - and the entire ZIMRA family - for rewriting history by becoming the first head of parastatal to win such an award. "It is indeed excellent news for the Nation as a whole, particularly when account is taken of the fact that from time immemorial, tax collection is not an activity that normally attracts positive recognition." He also encouraged ZIMRA to continue embracing the service culture in line with the Authority's motto: "We are here to serve."
Various organisations congratulated Mr Pasi and ZIMRA by placing advertisements in local newspapers. One of the organisations stated that, "The art of successful leadership lies in the ability to inspire others and set great standards of excellence…" Another organisation hailed Mr Pasi for the sterling performance throughout the years: "We honour your commitment to serve and support the Nation," which clearly showed that ZIMRA is in cordial relations with its stakeholders.
Mr Pasi has received several awards since the inception of ZIMRA on September 1, 2001 in recognition of his outstanding leadership skills.