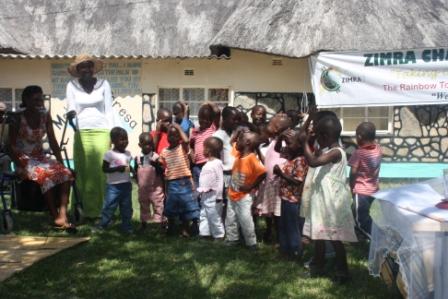 It was a joyful moment when the Zimbabwe Revenue Authority (ZIMRA) graced Mother of Peace Community on April 15, 2011 as part of its social responsibility initiatives to donate half a tonne of maize seed and other goods .
 ZIMRA's Head Office team and other ZIMRA officials from Nyamapanda made time to visit   the orphans who are kept at this institution The  Authority made a donation of 500kgs of maize seed, groceries and blankets. Mother of Peace was one of the beneficiaries of the Charity Ball that was held on December 3, 2010 under the theme "Taking care of one another". The Authority lived true to this theme by reaching out to Mother of Peace Community in Mutoko an institution that takes care of more than 136 orphans.
The guest of honour, ZIMRA's Loss Control Director Mr Charlton Chihuri handed over the goods to the Community. In his speech he highlighted that ZIMRA will continue to support the underprivileged.
In  her address the community leader Miss Stella Corneck, expressed gratitude and pointed out the theme implied that ZIMRA was not only committed to help those of its own but it also assisted those in the community whom they had no relation with. Ms Jean Corneck, the Strategic Advisor concurred with her sister ,  and pointed out that the maize seed will go a long way in realising self-sustenance of the Mother of Peace.
A number of charity institutions benefited from the proceeds of the 2010 Charity Ball. Among them was Alpha Cottages, Izimnyama, Harare Children's Home, Jairos Jiri, Matthew Rusike, andShungu Dzevana. Funds have been set aside for poultry, agriculture and borehole drilling for beneficiary institutions.