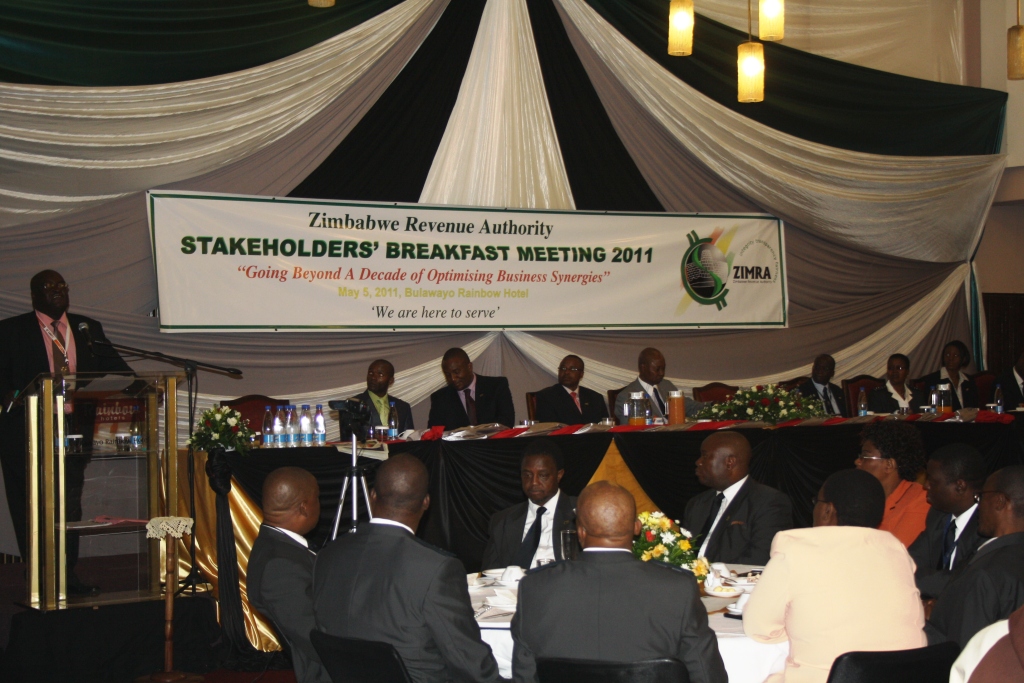 "ZIMRA is not a tax collector; ZIMRA is a national institution [and] we owe it to ourselves, our nation, our future, to subscribe to [it] now so that we have the means with which to repay our debts,  to construct our infrastructure, to have the security we desire, the health services and other services."
These words were said by the Chief Executive Officer of the Industrial Development Corporation (IDC), Mr Michael Ndudzo, who officiated as the guest of honour at the stakeholders' breakfast meeting which was hosted by ZIMRA recently.  The function was attended by captains of industry and government officials and saw stakeholders asking questions on the operations of the Authority.
In his speech, Mr Ndudzo stressed that clients should not view ZIMRA as an enemy but as an instrument for saving and investment for the State.
ZIMRA annually holds a stakeholders' breakfast meeting on the sidelines of the Zimbabwe International Trade Fair (ZITF) to afford stakeholders an opportunity to ask questions on Customs, Taxes and any issues pertaining to the Authority. This year's meeting was held on May 5, 2011 under the theme, "Going Beyond a Decade of Optimising Business Synergies" and sought to celebrate ZIMRA's 10th anniversary.