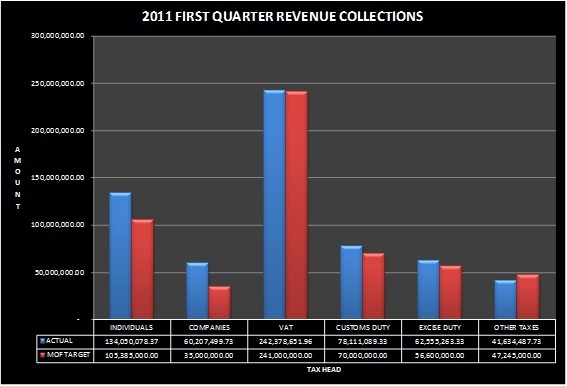 "Total gross collections for the first quarter amounted to US$618.9 million against a target of US$555.2 million resulting in a positive variance of 11%. Cumulative net collections are now at US$573.2 million against a target of US$555.2 million, giving a positive variance of 3%."  This was said by the Chairman of the Zimbabwe Revenue Authority (ZIMRA) Board, Mr Sternford Moyo, in a report on revenue performance that was published in local papers recently.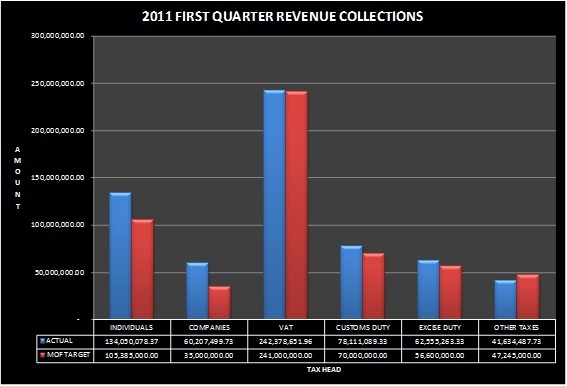 Most of the revenue was realised from Value Added Tax (VAT) and Individual Tax, which contributed US$249.6 and US$129.6 respectively.
The sterling performance was attributed to a number of factors which include upward reviews of salaries by some companies, gradual improvement in capacity utilisation, improvement in compliance levels, consistent audits and intensified information dissemination.
ZIMRA has been consistently surpassing revenue targets since inception in 2001 and has also, to use the Board Chairman's words, "started the year [2011] on a high note".
 
 
 
 
 
 

Actual Collections

US$

MOF target

US$

Variance to MOF (US$)

% variance

Individuals

     134,050,078.37

       105,385,000.00

            28,665,078.37

27%

Companies

      60,207,499.73

         35,000,000.00

            25,207,499.73

72%

VAT

     242,378,651.96

       241,000,000.00

              1,378,651.96

1%

Customs Duty

      78,111,089.33

         70,000,000.00

              8,111,089.33

12%

Excise Duty

      62,555,263.33

         56,600,000.00

              5,955,263.33

11%

Other Taxes

      41,634,487.73

         47,245,000.00

              5,610,512.27

-18%
 Please click here to view the complete Revenue Perfomance Report for the first Quarter.