United States of America senator George Vest, lawyer and politician once said that the one absolutely unselfish friend that a man can have in this selfish world, the one that never deserts him and the one that never proves ungrateful or treacherous is his dog.
If the above is any message to embrace, it proves true to the immense work that the Zimbabwe Revenue Authority (ZIMRA) K9 is handling, unselfish, never treacherous and an imperative function in curbing smuggling at ports of entry.
The ZIMRA sniffer colleague, Carlos being handled by K9 Officer Pesani Mungazi was signalled to search for the possible presence of illicit goods in a Proliner bus on August 26, 2021 at Beitbridge Border Post. He was commanded to sniff the luggage and made some indications around the trailer. Mungazi was together with Simbarashe Chiwiro, Edmore Muronzereyi and Tapiwa Machisa and was assured that there were some illicit products inside the bus-towed trailer.
"We undertook to search an incoming Proliner bus bearing registration number HT51RV GP pulling a trailer with registration number DZ33RR GP and it was coming from South Africa. Carlos made some indications at five different points around the trailer which prompted the team to conduct a full physical examination of the contents of the goods packed inside the bus trailer. The search yielded the recovery of contraband of 25 boxes of BronCleer Syrup totaling (1250X 100MLS bottles). The assessed value of the detected contraband amounted to US7500.00, said Felix Marizani Supervisor for the K9 unit.
He added that the discovered goods were seized as the continued fight against smuggling of prohibited goods intensified. The criminal syndicates continue to rise as the boxes containing the contraband were labelled and had names and phone numbers of the intended recipients, an indication that it was a well-planned group of transportation and delivery.
In a similar search, in September 2021 K9 Officer Happy Chadambuka, while on his patrol at Forbes main entrance recovered three (3) bales of second hand clothes with a street value of close to USD$6000 and 36 bags of dagga with a street value of
USD$ 28 822.67 through the assistance of a canine dog.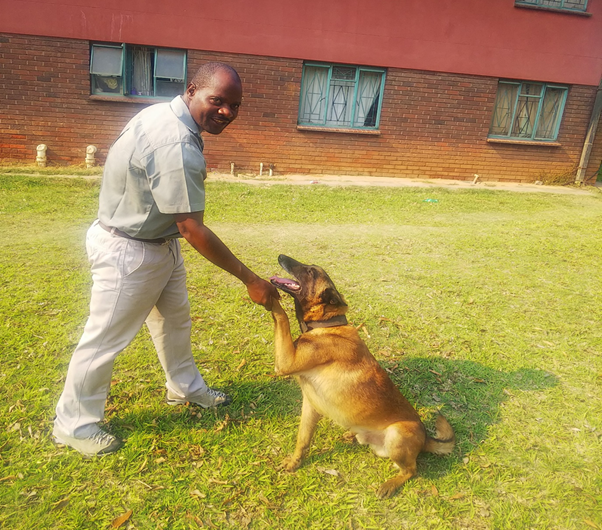 Mr Happy Chadambuka with Carlos